Postpartum Skin Tightening Frisco
Postpartum Skin Tightening Frisco
Pregnancy and childbirth are among the most beautiful experiences a woman can have. With that being said, pregnancy can make lasting changes to their bodies that many women want to resolve. One of the most common concerns after pregnancy is loose, hanging skin around the midsection. 
If you have excess sagging skin on your stomach, you could benefit from skin tightening treatment. At Willow Women's Health, we offer postpartum skin tightening in Frisco. Find out more about how EmpowerRF can help restore your slim, toned abdomen.
What Causes Loose Skin and Stretched Muscles Postpartum?
You might find that your once flat, toned abdomen simply doesn't look the same after pregnancy. Why does this happen?  Throughout your pregnancy, your stomach stretches to accommodate your expanding uterus and any pregnancy-related weight gain. Once your baby is born, this excess loose skin is left behind. It might appear to hang and sag downwards. The stretching and weight fluctuations that occur during pregnancy can also affect your abdominal muscles. They may lose their tone and firmness, appearing soft and poorly defined. The professionals at Willow Women's Health are dedicated to helping women feel like the best version of themselves. That is why we offer targeted treatments to resolve loose skin and weak muscles after pregnancy.
Willow Women's Health uses an innovative system called EmpowerRF to provide skin tightening and muscle toning services. The EmpowerRF system features a variety of modalities that are each designed to tighten and tone specific areas of the body. 
When we treat women for postpartum loose skin, we use the EmpowerRF TONE device to help them achieve flatter, more sculpted abdomens.
EmpowerRF TONE is a unique device that uses radiofrequency energy and electrical impulses to stimulate muscle contractions. When applied to the midsection, the device delivers intense electrical stimulation into the muscles to tone and tighten the abdomen. 
This effect is especially beneficial for women who are struggling with loose skin and stretched abdominal muscles after pregnancy.
How Does EmpowerRF TONE Work?
Are you interested in skin tightening treatment at Willow Women's Health? Take a look at this breakdown of the EmpowerRF TONE process to learn more about one of our most popular treatments.
Before scheduling your EmpowerRF treatment, you will meet with one of our providers to review the procedure. During this consultation, we will discuss your concerns and examine your abdominal area to assess any loose skin and muscles. We want to confirm that EmpowerRF TONE is the right course of action. At Willow Women's Health, we pride ourselves on helping every patient feel like the best version of themselves. This is why our consultation appointments are so important. We want to hear your concerns and help you feel comfortable before moving forward with treatment.
The EmpowerRF TONE Process
During your EmpowerRF TONE session, you will be able to comfortably lie back while one of our providers administers the treatment. The TONE device will be applied directly to your midsection to deliver radiofrequency energy and electrical impulses deep into the abdominal muscles and lower layers of your skin. These impulses stimulate intense muscle contractions that can tighten and tone the skin and muscles in your stomach. EmpowerRF TONE is a comfortable process that allows most patients to relax during treatment. Some women choose to read, listen to music, or watch videos on their phones while EmpowerRF works its magic!
Seeing Your EmpowerRF Results
The EmpowerRF TONE session should last anywhere from 30 minutes to one hour, depending on your unique needs. Once your treatment is finished, you will be able to go home and resume normal activity. It can take more than one session to see the best results from EmpowerRF treatment. Most of our patients see their ideal outcome after two or three sessions spaced several weeks apart. Once your complete course of treatment is finished, you should see a significant tightening of loose skin on the abdomen and enhanced abdominal tone.
Are You a Candidate for EmpowerRF Tone?
How do you know whether EmpowerRF TONE is right for you? 
Ideal candidates are women who have loose or sagging skin on their abdomens. Many candidates have recently given birth and have seen a change in their bodies after pregnancy. The best way to confirm that you are a candidate for EmpowerRF is by having a consultation appointment.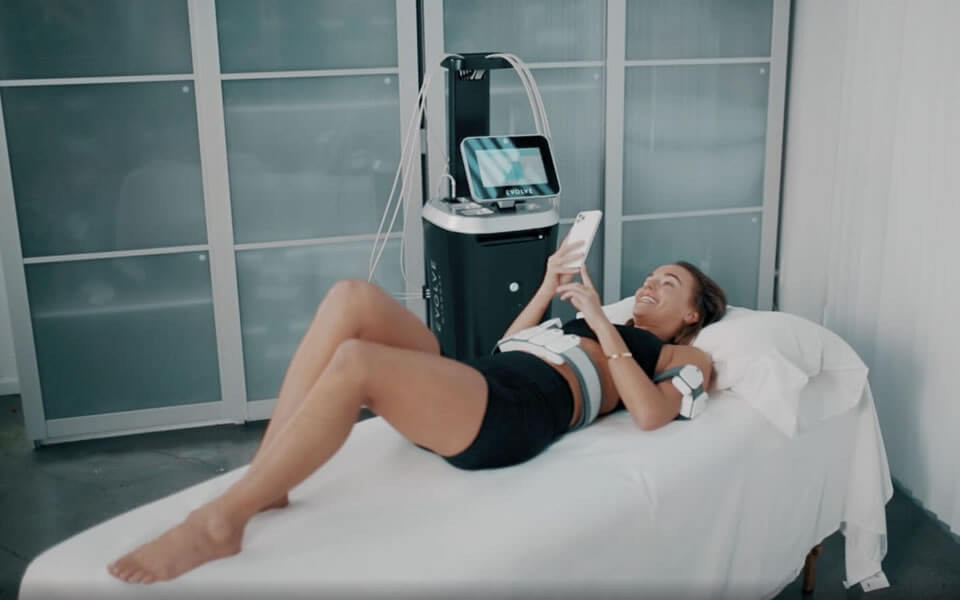 Postpartum Skin Tightening in Frisco
Are you struggling with sagging skin and loss of muscle definition after pregnancy? These concerns are very common. At Willow Women's Health, we offer postpartum skin tightening in Frisco. Our EmpowerRF services can provide muscle toning, skin tightening, and other aesthetic benefits. 
To find out more, contact us online or by phone to schedule a consultation with one of our providers today!